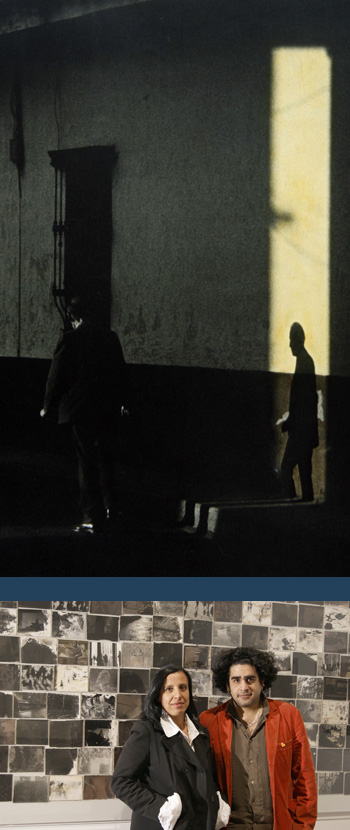 El Ministerio de Cultura a través del Museo Nacional de Colombia y el Centro Rockefeller para Estudios Latinoamericanos de la Universidad de Harvard, con la colaboración de la Fundación Fernell Franco, presentan

Una impecable soledad. Fotografías de Fernell Franco

. La exposición rescata los experimentos y búsquedas en torno al soporte fotográfico que Franco realizó a lo largo de su carrera y fueron -hasta ahora- una faceta desconocida del trabajo del fotógrafo caleño. La selección de obras pretende mostrar la búsqueda de Franco por capturar la imagen de la ciudad -en constante creación, destrucción y re-creación-, que lo llevó a plantear una obra en el límite mismo de lo fotográfico. La exposición, además, culmina una etapa del trabajo de preservación y clasificación que hizo la Fundación Fernell Franco de su archivo, con el apoyo de la Universidad de Harvard.

Curadores

José Falconi
Estudió Literatura Inglesa en el College of William and Mary de Virginia. Doctor en Literatura Latinoamericana del siglo XX con énfasis en lengua portuguesa de la Universidad de Harvard. Es miembro del Departamento de Historia del Arte y Arquitectura y Curador del programa para artistas emergentes en el David Rockefeller Center for Latin American Studies de la Universidad de Harvard. Ha contribuido para varias Revistas y periódicos de América Latina, Europa y EE.UU. como escritor, editor y fotógrafo.



Ángela Gómez


Maestra en Artes Plásticas de la Universidad Nacional de Colombia. Se ha desempeñado como investigadora de las colecciones del Banco de la República, del Museo Nacional de Colombia y de la Colección Hernando Santos. Actualmente es investigadora de las áreas de fotografía y de vida cotidiana en el siglo XIX de la Curaduría de Arte e Historia del Museo Nacional de Colombia.


_______________________________________________________________________

The Ministry of Culture, through the National Museum of Colombia, and the Rockefeller Center for Latin American Studies at Harvard University are proud to present the exhibition An Impeccable Solitude: The Photographs of Fernell Franco from February 23 to April 24, 2011.

Curators

Co-curated by José Falconi (Curator at the Art Forum Program at the David Rockefeller Center for Latin American Studies at Harvard University) and Ángela Gomez (Researcher and curator of the collections of photography at the National Museum of Colombia), An Impeccable Solitude is the first critical reassessment of the legacy and archive of Fernell Franco after his untimely death in early 2006. This show marks the culmination of a five-year project by the Rockefeller Center to conserve, catalog, and digitize Franco's entire archive, a process that resulted in the revelation of new facets of Franco's work, which was always centered around his fundamental preoccupation: the depiction of decadence and the continuous cycle of construction and destruction of the city of Cali. The exhibition presents, from the Fernell Franco Foundation, one hundred never-before-seen works that place Franco at the forefront of experimentation in the medium in the last part of the twentieth century. It also includes an award-winning 1976 photograph from the Museum´s collection.

By emphasizing the narrative techniques that the artist devised and deployed throughout his four-decade career, this exhibition presents Franco as one of the most innovative and experimental photographers at a critical moment in the history of photography, one that transcended the paradigm of photography as a mere document and the photographer as mere documentarian. While most of his contemporaries across Latin America were still working within the old framework, Franco was experimenting with and pushing the limits of photography, developing the ways in which we define its practice today.